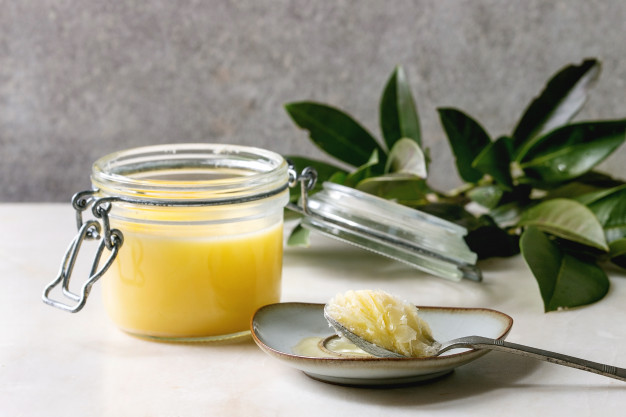 Fact Check! Desi Ghee Can Actually Help In Weight Loss.
One of the staple ingredients in every Indian kitchen is desi ghee and if you're having second thoughts about weight gain because of ghee consumption, stop right there. Ghee has been an integral part of Indian cuisine and middle eastern cuisine for centuries and if eaten correctly, the benefits of desi ghee will aid weight loss, and that's good news for everyone.
Let's understand the basics. Ghee is clarified butter or the result of heating the butter at a high temperature to separate the milk solids. This process doubles the amount of short-chain and medium-chain fatty acids in ghee as compared to butter which can be easily converted into energy by our body. Since it's clarified butter, ghee is also free of lactose which makes ideal for those who suffer digestion distress from consuming lactose.
What's The Right Ghee To Buy?
Making ghee at home can be a tough, time-taking and messy process. If you go to the market to buy pure ghee, you might get overwhelmed. One of the brands that make fresh and pure ghee is Heritage. Prepared with fresh butter, you will find two variants of ghee from this brand – Golden Cow Ghee made with cow milk, and Agmark Ghee made with buffalo milk. While both these variants of ghee have health benefits, Heritage Golden Cow Ghee is rich in minerals, calcium, vitamins, and protein, whereas Heritage Agmark Ghee has higher amounts of calcium, magnesium and phosphorus.
How To Use Desi Ghee For Weight Loss
This might come as a surprise to you but not for those in the nutrition community. Here are the health benefits of ghee and how you can use them to your advantage. 
Ghee is rich in essential amino acids which help the body to mobilise existing fat and stop excess production. 

Linoleic acid is a type of omega-6 fatty acid found in ghee along with omega-3 fatty acids that aid weight loss. They help in modifying the body's composition and reduce the fat levels in your body. 

Unlike most cooking oils, fats in ghee stimulate the digestive process and make it better. 

Adding a dash of ghee in your food will also prevent inflammation which can help you lose weight. 
Now isn't that amazing? Desi ghee can be used as an alternative to butter in many cuisines and dishes. But just like everything, overeating can cause problems. Mindfully adding ghee to your diet, for example, Heritage ghee, can benefit your body in several ways by providing it with healthy fats, vitamins, and protein to promote weight loss, better digestion, and gut health.