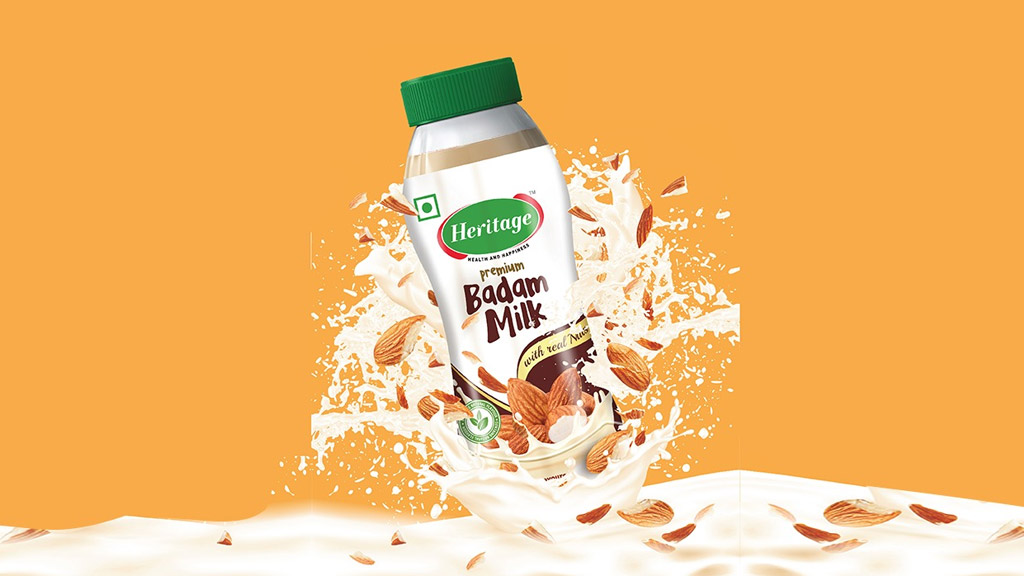 It is just March, and we are melting already! The time is upon us to wonder how to tackle summer heat and exhaustion. Thinking of the heat itself is draining. Many find different ways to charge up from the tiredness. One sure thing that works is the joy of drinking something cool and recharging that prevents us from melting. Nothing comes closer to the satisfaction it gives you on a hot day. Consuming something like a chilled beverage might give a moment of relief. But, it does not charge you enough to take on the rest of the day.
After delighting you with flavourful drinks for years, Heritage Foods now presents a handy solution just for you. We give you the all-natural 'Heritage Badam Charger.' This new Cool Crunchy Charger is a blend of perfected traditional flavoured milk with crunchy badam bits designed to energize the present you. The upbeat texture of smooth flowing milk, along with crunchy badam bits in every sip, is sure to keep you wanting for more.
At work, college, daily chores or a casual lazy hour, we all need more than a break to get through the day. The question still remains, are regular breaks enough to gain energy? Or something else is required? With the badam charger on the go, you are sorted.
Heritage Premium Badam milk with crunchy badam bits makes all the difference. To please your taste buds, you get crunchy badam bits in every sip. Made from toned milk, this is an all-natural delight with no added preservatives, artificial colours, flavours, or thickeners. All this makes this Badam Charger a true treat enjoyed by every age group.
Since the crunchy badam and milk is in play, it satiates you. Doing so prevents you from munching on unhealthy food, while providing you with enough energy to resist binge eating. Not only as a summer drink, but this is also a treat all year long.
So why wait? Try this extraordinary badam charger today and grab your pack at the nearest outlet. You can now get it delivered to your doorstep without any hassle by clicking on the links below. Follow us on our social media handles to get good deals and offers on Heritage products across all online channels. Happy shopping and Bon appétit!