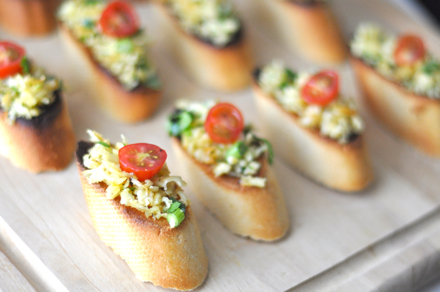 Snack time is for everyone, isn't it? Give Snacking An Italian Twist With Delicious & Nutritious Paneer Bruschetta
Snack time is for everyone, isn't it? Whether we are working professionals who like a tea-break or children who get hunger pangs when the clock strikes 5, snack time is essential. So why not spruce it up? 
Let's give paneer an Italian twist and make Paneer Bruschetta which is traditionally made with Italian bread and toppings of our choice, mostly vegetables and sauce. Here, we will use chopped up vegetables as well as mashed paneer to add a nutritious value. Speaking of nutrition, we will be using Heritage Fresh Paneer which is loaded with protein and calcium.  
Bread 
Olive Oil (or any oil of your choice)
Parsley
Chilli Flakes 
Bell Peppers 
Heritage Fresh Paneer Chopped 
Cherry Tomatoes
Mashed Heritage Fresh Paneer 
Salt
Italian Seasoning 
Cheese
Heritage Table Butter
Put the pan on medium heat and add one tablespoon of Heritage Table Butter. Spread it evenly on the pan as it melts.

Take a few slices of bread and spread generous amounts of Heritage Butter on both sides. Once the bread is coated, put it on the pan.
Toast it till the bread turns golden brown on both sides.
For the topping, get another pan to saute the chopped paneer. Add Italian seasoning and mix well.
In a bowl, add 1 cup bell peppers, 1 cup cherry tomatoes, 1 cup mashed paneer, ½ TSP salt, ½ TSP Italian seasoning, 2 TSP olive oil, some parsley, and chilli flakes. Mix the added ingredients and add more salt if required.
Once all the ingredients are mixed, add the sauteed paneer and mix again.
For the final cooking, add butter to a pan and while it melts, put the topping mixture on the toasted bread generously and put it on the pan, topping-side up.
Let the bread cook for a good 5-10 minutes and it's ready!
Who doesn't like good plating? Get the bread on a platter and grate some cheese on it. Finish it with a sprinkle of Italian seasoning and chilli flakes.
Easy, right? This snack is nutritious, thanks to Heritage Fresh Paneer and delicious, too. You can also make Paneer Bruschetta as a starter for your feasts and impress your guests. Do recreate it at home and tag us on the photo on social media.