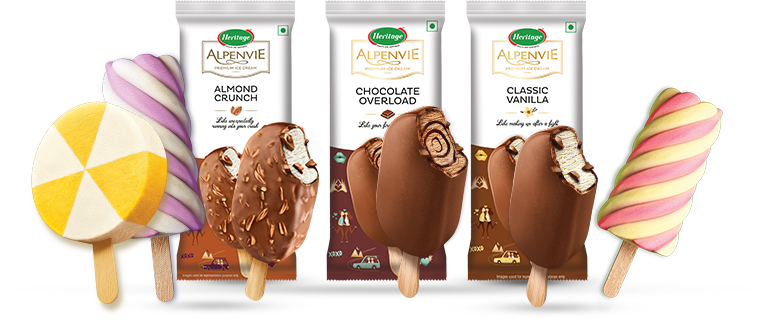 Ice-cream: Our Favourite Summertime Treat
The onset of summer is synonymous with cold foods—lemonade, milkshakes, and most importantly, ice-cream. Ice-cream is the undisputed king of summertime treats. Everyone loves it, whether young or old, men or women. It's cold, it's refreshing, and most importantly, it's delicious! 
Here at Heritage Foods, our huge range of ice-creams and frozen desserts – with a wide variety of flavour combinations – is a sure-fire way to cool down in the scorching summer sun. Made with precision using the purest ingredients and packed in state-of-the-art plants for safety, our frozen treats are uniquely crafted to leave your taste buds wanting more! 
But do die-hard ice-cream lovers know the difference between pure, milk-based ice-cream and frozen desserts? Is there a difference between the two? Keep reading to learn more about these differences, and about Heritage's irresistible range of ice-creams and frozen desserts!
Ice-cream v/s frozen dessert:

Not everything that looks like ice-cream is ice-cream! Your favourite 'ice-cream' might actually be a frozen dessert. But what's the difference between ice-cream and frozen dessert? Well, it turns out, quite a lot! While ice cream is made simply from milk/cream (dairy), frozen desserts are made by emulsifying vegetable oils or other fats with gums, stabilizers, and other fortifying ingredients. The processes for making these two treats also vary—the process for making ice-cream is often simple and less involved, while frozen desserts, given the ingredients that go into them, often require more complex processes. No matter the differences, however, both are delicious and enjoyable in their own right—and help you beat the heat!

Our Alpenvie ice-creams – Pure, premium, and everything fabulous! Made with the purest, freshest cow's milk, our Alpenvie range of premium ice-creams is everything you need to combat the summer heat. Its availability in a wide variety of flavours ensures that there's something for everyone, be it rich decadent chocolate or fresh, creamy mango.
Alpenvie tubs:

Want to indulge the whole family in the richness and goodness of dairy? We've got you covered. With our range of family-size tubs in various tempting flavours, indulge in a cool, delicious treat that also satisfies your family's sweet tooth!

Absolute Richness: Heritage Foods' stick ice-creams are perfect for when you're craving a quick sweet treat to beat the summer heat. With three decadent flavours – almond, chocolate, kulfi – the taste of tradition reflects in each bite. Try a bar now to realise why Alpenvie bars are the premium choice of ice-cream lovers!
Flavourful Cones: Our ingenious range of frozen dessert cones combines the delightfulness of crunchy biscuits with the refreshing taste of your favourite flavours. Available in a range of 6 tasty flavours, from bright blackcurrant to rich rajbhog!
Fruity Fun:

Our range of fruity frozen desserts are true-blue summer favourites. Whether you're craving a creamy, juicy mango slice, the sweet tartness of raspberry, or the freshness of an orange, our fruit bars are truly the flavours of the summer! Escape the heat while indulging in your favourite summer fruits with our fruit bars.
This summer, don't sweat and fret—you can make the most of the season with our rich, creamy ice-creams and delicious frozen desserts and indulge in your sweet tooth while also beating the heat! So get out there and treat yourself to a yummy frozen treat! Our range of frozen desserts and Alpenvie ice-creams is available on Big Basket and your local physical stores.