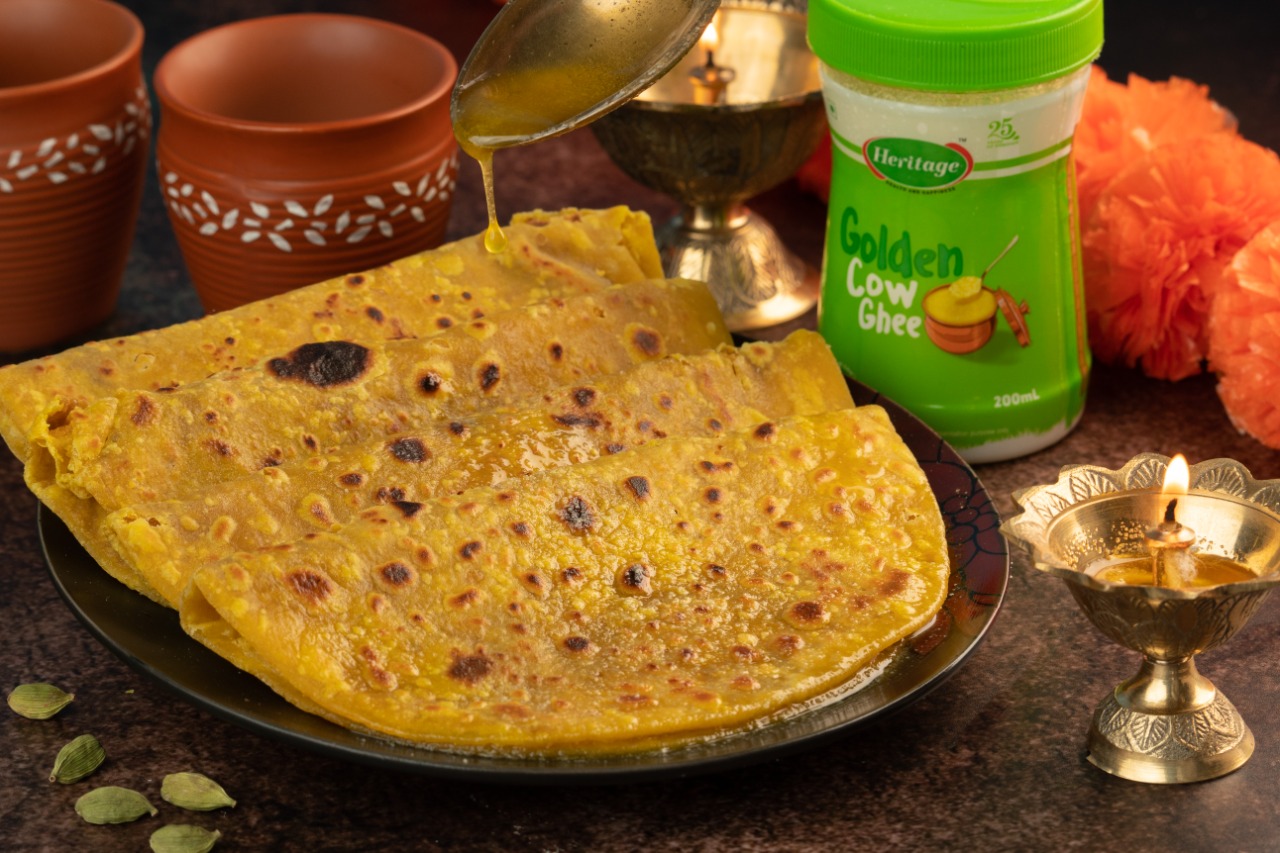 Nutritious Ghee: More Than Just a Fat
Ghee is a staple of Indian cooking, no matter which part of the country you hail from. Whether you're making delicious, lip-smacking halva for a special occasion or merely topping your rice or roti at lunch, ghee is the perfect ingredient to supplement your food and cooking with. 
Ghee, also known as clarified butter, is made by heating butter and allowing the liquid and milk portion to separate from the fat. Then, the milk is made to caramelise and becomes a solid, and this remaining oil is our beloved ghee, which has many different applications in the kitchen, from cooking meals, to deep frying treats, to adding to dishes as a flavour enhancer. 
We might think of ghee as just containing fat and not really adding any nutrition to our diet. But that's not true! Ghee is not just delicious, but also has a variety of health benefits that we may not know about when we consume this super food. 
Ghee is a calorie-dense food—when compared to other foods, 100 ml of ghee can provide as much as 883 calories of energy. It is also nutrient-rich—ghee contains vitamin A, vitamin E and vitamin K, especially if the ghee is made from milk sourced from grass-fed cows. By being an excellent source of vitamin E, which has significant antioxidant properties, ghee can be associated with reduced risk of cancer, arthritis, cataracts, and heart disease. It also contains butyric acid, which helps in digestion of dietary fibres.
Ghee is a wonder food for the body. By being a source of healthy fats, cooking vegetables in ghee can help absorb more of the essential vitamins and minerals needed by our body. Ghee is also a significant source of conjugated linoleic acid (also known as CLA), which has been shown to potentially help combat obesity. Research and studies have indicated CLA present in ghee may help reduce excessive weight gain and help reduce body fat in some people.  Desi ghee is also an excellent source for boosting immunity, as it has antibacterial, antifungal, antioxidant properties and fights against viruses, flu, coughs and colds.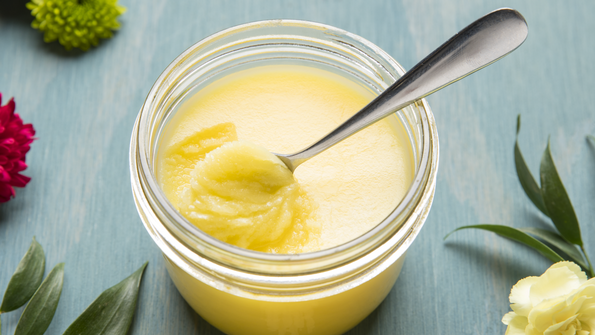 Ghee also has several anti-inflammatory effects, often used in Ayurvedic medicine to treat burns and swelling. Studies show that consuming ghee rich in butyrate can soothe inflammation within the body. Apart from removing toxins from the body and treating inflammation, ghee also acts as a natural moisturiser and brings radiance to skin and hair.
When compared to butter, another milk-based fat, ghee has a higher smoke point, thus ensuring that it doesn't burn as quickly. This makes it ideal for frying and roasting at high temperatures. Frying in ghee is also healthier for us since it produces less of the harmful toxin acrylamide (known to increase the risk of cancer in lab animals) when heated, compared to other oils and butter. 
Ghee is universally palatable, as it is lactose free—since it separates milk from fat, ghee becomes lactose-free, making it better than other lactose-based fats for those who are lactose intolerant or sensitive to dairy products. Pure, rich, and delicious, Heritage ghee is the perfect ghee for all your daily needs. Prepared from pure butter in state-of-the-art processing plants, taking the utmost care to ensure goodness in every single bite, Heritage ghee is available in three delicious varieties.
Heritage cow ghee:

Golden-yellow and granular, with a delectable aroma, Heritage cow ghee is prepared from the purest cow butter to supplement your daily cooking.

Heritage buffalo ghee:

Our buffalo ghee, white in colour and granular with a good aroma, is made from fresh buffalo butter.

Special Hi-Aroma Ghee:

Prepared with care from pure ripened cream with selected bacterial culture in state-of-the-art processing plants, our Heritage Hi-Aroma Ghee is light brown in colour with a naturally developed rich aroma and smooth granules. 
So, the next time you need delicious ghee for your food preparations, turn to Heritage ghee! With our three specially-crafted variants ideal for cooking, garnishing, and making sweets, turn any occasion into a special one. Make your food even richer with Heritage ghee—now available online on Big Basket and Heritage TUCH app, as well as in your local physical stores.