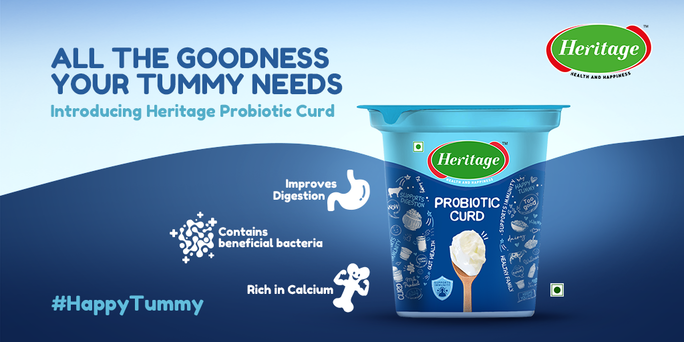 5 Essential Reasons To Include Probiotic Curd In Your Everyday Diet
It's soft, creamy, and delicious! We're talking about curd, something that is a staple in every Indian kitchen. We love pairing it with parathas, rice, daal and roti. While the combinations are endless, there is more to curd than just taste; it's highly nutritious. 
Curd is an outstanding source of protein. When made with pure dairy, it is rich in gut-friendly bacteria, calcium, vitamin B-12, vitamin B-2, vitamin B-6, iron, potassium, and magnesium. 
What Is Gut-Friendly Bacteria?
Gut-friendly bacteria is what makes curd probiotic. Unlike the bacteria that does no good, gut-friendly bacteria helps in better digestion. While regular curd like Heritage Total Curd has all the health benefits, you should include Heritage's Probiotic Curd in your everyday diet as it contains more gut-friendly bacteria.
5 Health Benefits Of Probiotic Curd
For Stronger Bones & Teeth 
Consuming probiotic curd daily can give us a lot of calcium and vitamin D which is essential for bone health. Just like milk, a cup of curd can do good for your kids. Do you know someone who has joint pains? Having curd every day can reduce the risk of arthritis, osteoporosis, and rheumatoid arthritis by providing enough calcium to the body. 
It's no secret that a protein-rich diet helps weight loss, but did you know you can achieve that by eating curd? Curd is a great source of protein, and the gut-friendly bacteria in probiotic curd helps control weight gain. While the protein will keep your stomach filled for a long time, the calcium, along with probiotic bacteria, will stop fat cells from forming. Isn't that amazing? 
A common reason for faster ageing is nutritional deficiencies. A cup of probiotic curd everyday can give you ample amounts of calcium, zinc, B vitamins, and protein which keeps the skin firm and supple. Remember seeing DIY curd face masks? Don't just mask it, eat it! 
With a cup full of probiotic curd every day, you are ready to take on the world. Not only will the probiotic strain in curd strengthen your gut health but also reduce the chances of infections and inflammatory bowel diseases. 
Regular consumption of dairy affects human mood and cognitive function. Having a dollop of probiotic curd keeps the brain active, helps prevent nervous breakdowns, and keeps the stress away.
Fascinating, right? Start your journey to a healthier lifestyle by including Heritage Probiotic Curd in your everyday diet. You can install the Heritage TUCH app and get it delivered to your doorstep or alternatively you can buy it at your nearest supermarket.