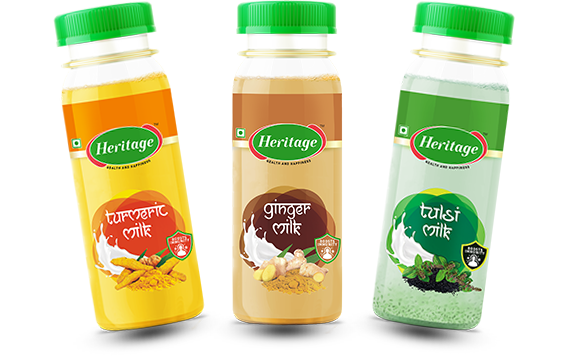 Keep Your Body Healthy & Nourished With Immunity Milk 
Immunity is the need of the hour. While we know milk is essential for healthy bones and muscles, did you know milk can strengthen our immunity? 
Milk is a great source of protein that encourages the growth of WBCs (white blood cells) that fight against diseases. Consuming milk everyday generates extra defence in our body as we are giving it the required protein-filled fuel. But what is immunity milk? It is something better. 
In Heritage's range of Immunity Milk, we have combined the goodness of milk with immunity building ayurvedic ingredients. While milk contains essential amino acids, vitamin D, B12, magnesium, zinc, and thiamine which boost immunity, added ingredients like tulsi and ashwagandha give it a boost. So, for a daily dose of strength and WBC army, here is everything you need to know about Heritage's range of Immunity Milk. 
Turmeric Milk 
A common ingredient in our cuisine, turmeric is a superfood. Curcumin, an active component in turmeric holds strong antioxidant properties that fight cell damage and reduce the risk of diseases and infection. After combining with milk, Heritage Turmeric Milk is a golden potion that will keep you healthy. 
Ginger Milk 
Don't we all love ginger tea? Well, Heritage Ginger Milk is much healthier than that. Ginger is known for its excellent anti-inflammatory properties. It will keep your gastrointestinal tract healthy and boost metabolism. Itchy throat? Ginger milk will help. 
Tulsi Milk 
A potent ingredient in ayurveda for all the right reasons, tulsi has multiple therapeutic uses. One of which is strengthening immunity. Tulsi is rich in vitamin C & zinc that help keep infections at bay. It has known anti-bacterial, anti-viral, antifungal properties, and anti-cancer properties which is beneficial for overall wellness. 
Ashwagandha Milk 
Ashwagandha is adaptogenic which means it can adapt to our body's needs. Adding Heritage Ashwagandha milk to your diet will improve the body's resilience to stress and body's defence against diseases by enhancing immunity. Its antioxidant properties will protect against cellular damage and give our body a good protein-rich defence for everyday life. 
Ready to add these nutritious immunity milk to your diet? Download the Heritage TUCH app to get them delivered to your doorstep or go to your nearest supermarket to spot these healthy drinks.