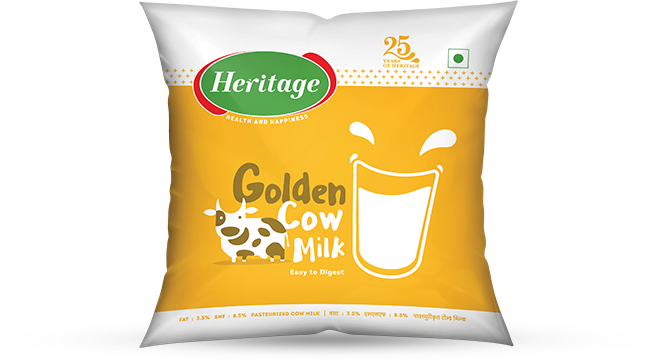 Cow Milk – A Superfood in Disguise
Cow milk is a vital ingredient in our dietary habits, so it's no surprise that India is among the leading producers of milk worldwide. Most people's strongest memory associated with milk is from childhood—of drinking a glass of nutritious cow milk each morning before going to school or to play with your friends. As a child, you must have been told by adults that milk makes your bones stronger, but did you know that drinking cow's milk has many other benefits? 
Let's see what else cow's milk does for our health! 
It's nutritious

– Cow's milk contains many nutrients that the body needs. It is a great source of protein and calcium, as well as nutrients including vitamin B12 and iodine. Cow's milk also contains magnesium, which helps in bone development and muscle function, and whey and casein, which have been found to play a role in lowering blood pressure.

Good source of protein

– Cow's milk is considered a 'complete protein', because it contains two types of proteins, whey and casein, which are considered 'high quality' proteins, and are needed by our body in muscle health, growth, and development.

Benefits in bone health

– By far, the most common benefit of cow's milk is known to be its role in promoting better bone health. Milk helps maintain bone health throughout life, due to the presence of nutrients such as calcium, magnesium, protein and phosphorus. Studies have shown that drinking cow's milk may be linked to reduced rates of osteoporosis and fractures, especially in older adults.

Helps in heart health

– Omega-3 fatty acids, also known as 'good' cholesterol, present in cow's milk can be beneficial in improving heart health and prevent the onset of cardiovascular conditions such as heart attacks and strokes.

Boosts immunity

– Research has linked the consumption of cow's milk with improved immunity, protection from diseases, and youthful skin. Apart from nutrients such as calcium and protein, cow's milk also contains antioxidant compounds like vitamin E, selenium and zinc, which seek out dangerous free radicals in our body that may cause mutations or illnesses. 
Clearly, cow's milk really is an all-rounder, with a versatile nutrition profile and a whole range of ways you can incorporate it within your diet. At Heritage Foods, we are on a mission to bring nutrition to the nation through the goodness of dairy and so we go to great lengths for the finest quality of milk. Our stringent procurement system is designed to fetch pure milk directly from the farms which are then treated at state-of-the-art plants using advanced machineries that ensure zero human contract across the entire production chain. Heritage's Golden Cow Milk is free from any preservatives and adulterations thus offering you the real goodness of dairy. Its rich texture and consistency is the true hallmark of its quality and is widely popular among milk consumers across the country.


So here's to enjoying the goodness of dairy with Heritage by getting fresh & nutritious cow milk and other dairy products from BigBasket or local stores near you.